Thanks for visiting ! -This page is under construction...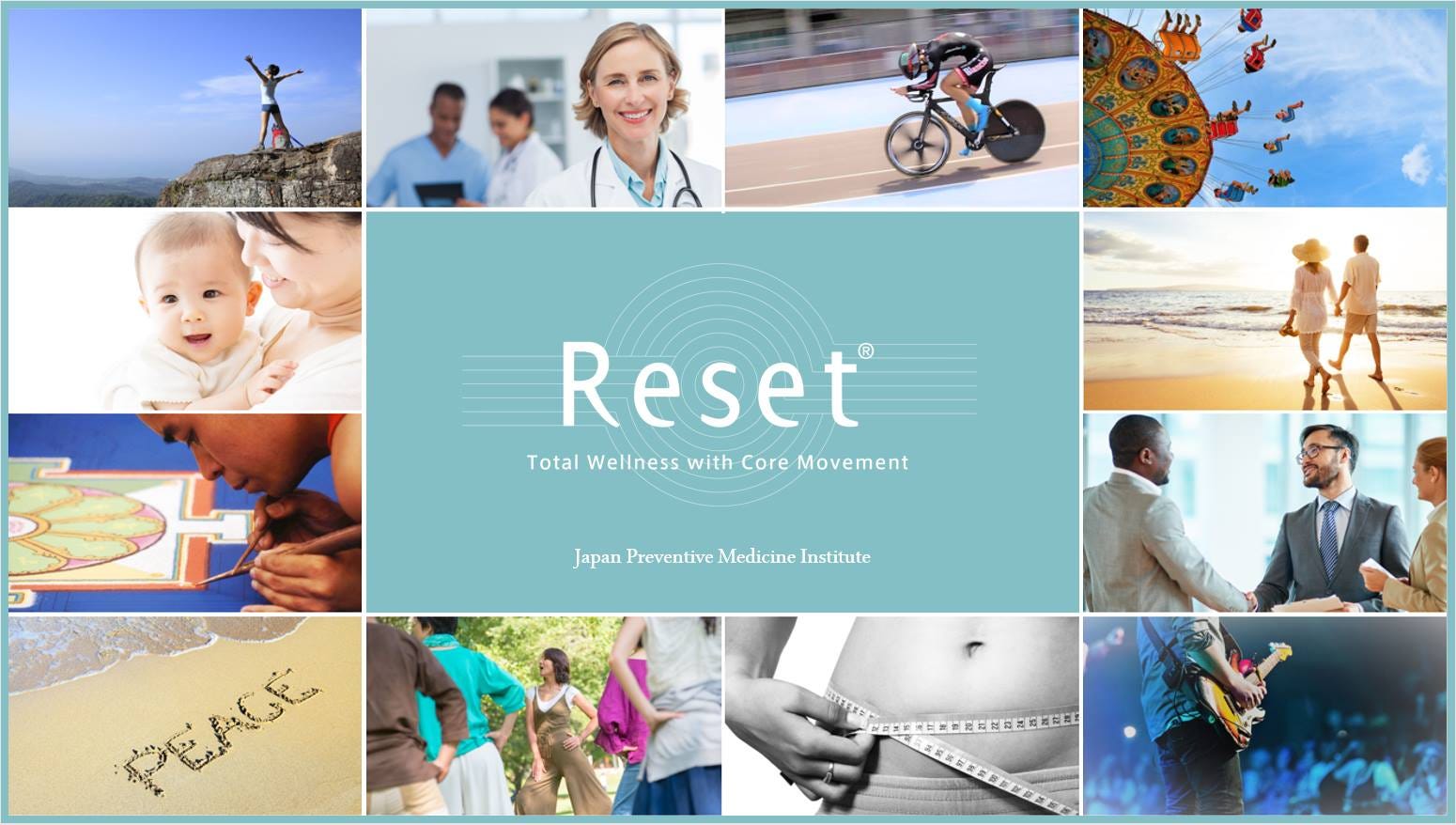 Japan Preventive Medicine Institute
Reset® - Wellness for Life
In response to Japan's 2011 earthquake and tsunami, we committed ourselves to sharing self-care and trauma recovery methods in the most affected areas. In 2016, having worked with over 12,000 people, we created a new method that not only helps people navigate stress or trauma, but that can also help all of us improve our physical and mental health and Quality of Life. Blending Western theory and Eastern practice, Reset® is a short and specific sequence of breath, movement, and mindfulness that offers a safe exit from stress or trauma and a gentle pathway to Peace. People who use Reset® report stress relief, trauma recovery, pain reduction, improved work performance and creativity, smoother relationships, and sustained Happiness. Safe, effective, and appropriate for all ages, Reset® is a user-friendly resource that anyone can learn, and anyone can benefit from. With our growing team of Reset® Practitioners, we continue to teach Reset® in the North East of Japan, and in an increasing number of schools, hospitals, and business settings around the world in the hope of enhancing the lives of people everywhere.
Polyvagal Theory
As the brain and nervous system evolved, they wired us to navigate life in connection with others. In this state of Social Engagement, newer nervous system functions regulate older ones and we benefit from optimal health and mental performance. If our brain receives cues of danger or life-threat (real or imagined), our nervous system balance shifts to mobilize us in fight-or-flight or immobilize us into shutdown. In the short-term, these primitive 'stress' and 'trauma' reactions help us to survive, but if we cannot switch them off, our mental, physical and societal health deteriorates. How can we restore cues of safety to the brain after stress and trauma to switch-off these reactions and return our families, companies, and society to health? Reset® was developed to answer this question.
Holistic Health Philosophy
While the West formed theories of Health that involved the brain, the East created pathways to Health built on a more holistic philosophy: Life is Here and Now. Body and Mind are one. In the Natural State we respond to life from a place of grounded stability. Practices like Aikido suggest how our posture, breath and Mind can help us stay calm in the face of challenge, and help us return to balance if the stress reaction is triggered. As an understanding of the Mind-Body connection grows and the holistic view of Health gains credibilty in the West (as reflected in the WHO definition of Health), practices like meditation and mindfulness are being explored as ways to prevent or reduce stress or trauma. But because these practices can take time to master and are not always appropriate or safe, not everyone has benefitted from them.
Wellness for Life
Reset® blends Western theory and Eastern practice into a short and specific sequence of breath and mindful movement that realigns posture and sends cues of safety to the brain that switch-off stress and trauma reactions and restore nervous system balance. People who do Reset® report stress relief, trauma recovery, pain reduction, happier relationships, and better work performance. Reset® easily fits into busy lifestyles and can be done in one minute steps, indoors or out, in groups or as self-care, by people of all ages. Reset® can be safely and effectively taught to people after personal tragedy, and to commnunities after man-made or natural disaster. Safe, effective, and widely applicable, Reset® is now being used in clinics, schools and workplaces around the world.
Reset® in America
In early 2019, we took Reset® to the US and taught it in Oregon, Texas, Florida and Hawaii (click for details). If you would like to attend or host a Reset® workshop with us in America in 2020, please click HERE to contact us.
Learning Reset® - Workshops
Reset® can be learned privately or in groups, indoors or outdoors, with family, friends or colleagues, or by joining a class in your local area. To contact us about hosting a workshop in your area, click HERE.
Sharing Reset® - Training
Reset® Training is available to everyone. From sharing Reset® with friends and family to using Reset® professionally, there is a level of training for you. Click HERE to learn about the Reset® Training and Support Program.